Thomas Selditz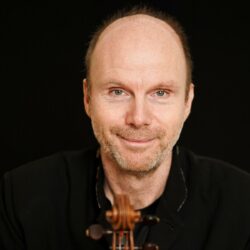 Since 2010 professor for viola at the University of Music and Performing Arts Vienna, before that professorships at the University of Music in Hanover and Hamburg. Thomas Selditz comes regularly to the Allegro Vivo Summer Academy, master class viola, to work with his students.
At the age of 21, 1st solo-violist with the Berlin Symphony Orchestra and a few years later with the Staatskapelle Berlin. Member of the Gaede Trio and member of the Hugo Wolf Quartet Vienna till 2016, guest performances in Europe, Japan and in the U.S. Recordings of his chamber music were released by the labels Largo Records, Tacet, Sony, MDG, Audite and Phoenix. In 2003, his solo CD was awarded with Diapason and the German Record Critics' Award, the most recent solo recording with the BBC Concert Orchestra London was also awarded with the German Record Critics' Prize in 2019.
Studies at the Academy of Music Hanns Eisler Berlin under A. Lipka.
Registration for the workshop "Brainstorm" by Thomas Selditz is possible when registering for a master class.