Academia Allegro Vivo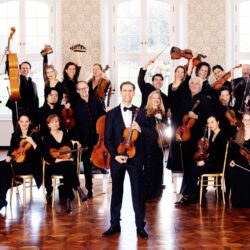 Vahid Khadem-Missagh took over as artistic director of the Academia AllegroVivo on the renowned festival orchestra's fortieth anniversary, a generational shift that has found expression both in the orchestra's membership and in the design of its programmes.
Over the decades, the Allegro VivoChamber Orchestra has established itself as the orchestra-in-residence at the International Allegro Vivo Festival whilst also providing special stimuli to the European cultural scene in the capacity of a musical institution of Austria. Aspiring to combine highest artistic quality and delight in playing music, the Academia Allegro Vivo is a musical ambassador, touring the globe, taking up invitations to international music festivals and combining the Viennese strings sound with a modern approach to interpretation. Thus the Academia Allegro Vivo performs a wide repertoire for string orchestra ranging from the classical to the romantic and 20th century period whilst also premiering commissioned contemporary works.
The ensemble's numerous activities are well documented on about 30 CDs with the labels ORF Ö1, Gramola and Camerata Tokyo. The latest CD "Violin Reflections" was released in 2022 under the AV-Records label with works by Dvořák, Ravel and Piazzolla, all of which put the solo violin in the spotlight and are reflected by the string sound. Under the title "Quasi una fantasia" the Ö1 edition of the Austrian Broadcasting Company published the world premieres of the Violin concerto by Tristan Schulze (soloist: Vahid Khadem-Missagh)as well as the Double concerto for violin, cello and orchestra by Christoph Ehrenfellner (soloists: Vahid Khadem-Missagh and László Fenyö). The most recent CD published by Ö1 Edition was "Momentum" with recordings from Beethoven's "Kreutzersonate" in an arrangement for soloviolin and stringorchestra by Christoph Ehrenfellner, Beethoven's 1st Symphonie, Bélá Bartók's DivertimentoSz113 as well as Leoš Janáčeks Idyllaop.3.