Academia Allegro Vivo
Warning
: Undefined variable $priceString in
/www/wwwallegrovivoat_685/public/wp-content/themes/allegro-vivo-theme/functions.php
on line
362
Warning
: Undefined array key "instrumentList" in
/www/wwwallegrovivoat_685/public/wp-content/themes/allegro-vivo-theme/functions.php
on line
378
Warning
: Undefined variable $priceString in
/www/wwwallegrovivoat_685/public/wp-content/themes/allegro-vivo-theme/functions.php
on line
362
Warning
: Undefined array key "instrumentList" in
/www/wwwallegrovivoat_685/public/wp-content/themes/allegro-vivo-theme/functions.php
on line
378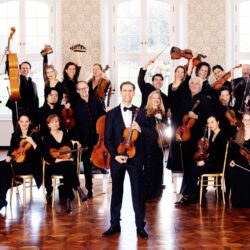 Vahid Khadem-Missagh took over as artistic director of Academia Allegro Vivo on the renowned festival orchestra's fortieth anniversary, a generational shift that has found expression both in the orchestra's membership and in the design of its programmes.
Every year, Academia Allegro Vivo performs in numerous concerts as orchestra-in-residence at the International Allegro Vivo Festival. Aspiring to combine highest artistic quality and delight in playing music, Academia Allegro Vivo is a musical ambassador, touring the globe and taking up invitations to international music festivals.
Recently, another double CD "QUASI UNA FANTASIA" was released featuring Christoph Ehrenfellner, Tristan Schulze, Gottfried von Einem und Wolfgang Amadeus Mozart conducted by Vahid Khadem-Missagh.
Another double CD "SPIELFREUDE" was released featuring Mendelssohn's Concerto for Piano, Violin and Orchestra, Dvořák's String Serenade and »Orawa« by Wojciech Kilar. As audible rarity is also Gustav Mahler's 4th Symphony in the chamber ensemble version of Erwin Stein documented.
The orchestra's repertoire focuses on the wealth of music for chamber orchestra. CD productions in recent years include numerous world premieres. Furthermore, recordings of Franz Schubert's »Death and the Maiden« in the version by Gustav Mahler, E. W. Korngold's »Symphonic Serenande« and Béla Bartók's »Divertimento for String Orchestra « enjoyed wide acclaim, as did Richard Strauss's »Metamorphoses« for 23 solo strings and recordings of Tchaikovsky's »Souvenir de Florence« and »Souvenir d'un lieu cher«. A double CD titled »Neue Horizonte « (»New Horizons«) including works by Dvořák, Barber, Villa-Lobos, Strawinsky, Rota, Pleyel and Roussel.
Concerts