Miriam Kutrowatz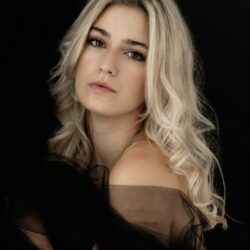 Miriam Kutrowatz has her first engagement for a year in the young ensemble in the Theater an der Wien. This year she will be singing a concert with the Czech Philharmonic Brno at the Allegro Vivo Festival.
The Vienna-born soprano studied with KS Edith Lienbacher at the University of Music and Performing Arts Vienna. In this context, she made her debut in 2018 as a sand and duck male and in 2019 as Gretel (E. Humperdinck, Hänsel and Gretel) at the Schönbrunn Palace Theater. In addition, she took on the role of 2nd Woman at Perchtolsdorf Castle (Dido and Aeneas, H. Purcell), at the festival summer "JOpera" 2019 she interpreted the Morgana in G.F. Handel's "Alcina".
"Styriarte" festival in July 2020, Miriam will make her debut as Zerlina in a new production by W. A. ​​Mozart's Don Giovanni under Andrés Orosco-Estrada.
The highlights of 2019 were the "Festkonzet" of the Schubert-Gesellschaft Wien-Lichtental, performances of the cantata "Mirjams Siegesgesang" (F. Schubert) under Johannes Hiemetsberger at the Liszt Festival Raiding and at the Theater Odeon in Vienna. She will also give this work next June in the Mozart Hall of the Vienna Konzerthaus.
In G. Carissimi's "Jephte" Miriam sang the role of Filia in October 2019.
In addition, she made her debut in the main hall of the Vienna Konzerthaus, where she designed the annual "Wiener Konzerthaus Soirèe" under Erwin Ortner and the Arnold Schönbergchor.
The soprano was able to interpret the choir fantasy in C minor (L.v. Beethoven) in the Vienna Konzerthaus and in the Philharmonie de Paris under Phillipe Jordan with the Wiener Symphoniker and the Wiener Singakademie.
Miriam Kutrowatz is a multiple award winner at the 10th international Cesti singing competition for baroque opera, where she was awarded the Audience Award, the Young Artist Award and the Resonance Award of the Vienna Konzerthaus in the form of a portrait concert.