Martha Khadem-Missagh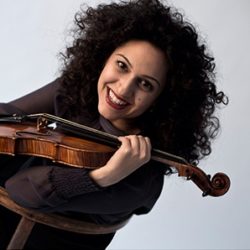 Since 2011 Martha Khadem-Missagh is professor at the Conservatory of Luxembourg. Lecturer at the courses for children and their parents, violin, at the Allegro Vivo Summer Academy in Horn, in the Waldviertel, for many years.
Solo performances worldwide and highly in-demand chamber musician. Performances as soloist with the Tonkuenstler Orchestra, Vienna Chamber Orchestra and Academia Allegro Vivo, concerts throughout Europe, the U.S. , South Africa and Japan. Invited to play at the Salzburg Festival, Carinthian Summer, Mondsee Festival, Klangspuren Tirol. Chamber musician partner of R. Batik, P. Demenga, B. Moser. First prizewinner of several competitions such as Carl Flesch-Academy 2000 in Baden-Baden, Germany, and chosen Young Concert Artist of the first Starling-DeLay Symposium 2001 in New York with I. Perlman, D. DeLay and others. CD- and TV recordings.
Studies at the Conservatory of Music Vienna and at the University of Music and Performing Arts in Vienna under G. Schulz and C. Altenburger.