Johanna von der Deken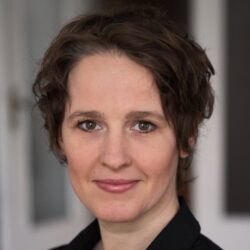 Johanna von der Deken is a mezzo-soprano. Performed as part of opera projects at renowned addresses such as the Theater an der Wien, the Graz Opera, the Berlin State Opera, the Vienna Chamber Opera, the New Vienna Opera, the Vienna Odeon, at the Ruhrtriennale, the Klosterneuburg Opera, at the Wiener Schauspielhaus, at the Stadttheater Klagenfurt, at the Carinthian Summer, at the Berlin Festival and at the Paris Opéra Garnier.
Johanna von der Deken was invited to collaborate with ensembles such as La Capella Reial de Catalunya, Wiener Akademie, Armonico Tributo, die Reihe, Klangforum Wien, Vokalensemble Nova, Ensemble Prisma Wien and Wiener Symphoniker.
Recent projects have been "Urbo Kune" with the Klangforum in Cologne, Amsterdam and Vienna, a musical-literary evening in the O-Ton series in the Wiener Konzerthaus, the church opera "Christophorus" at the Trigonale and "Stories from the Vienna Woods" by HK Gruber at the Bregenz Festival and at the Theater an der Wien as well as Bernhard Lang's "Mondparsifal" at the Wiener Festwochen and the Berliner Festspiele.
The versatile artist also works as a librettist. On behalf of the Vienna State Opera she wrote the libretti for the children's operas "Das Städtchen Drumherum" by Elisabeth Naske and "Patchwork" by Tristan Schulze.
Johanna von der Deken, together with the ingenious pianist Hyung-ki Joo and his partner (on the piano and in life) Yu Horiuchi, will perform the concert "Humoresque" at the Kunsthaus Horn.
Violin class, in Graz at the conservatory and completed a course in choral conducting at the "Kunst Uni Graz"; afterwards acting training at the school of the Vienna Volkstheater. Engagements at the Volkstheater, the Theater der Jugend and numerous television roles followed. Vocal training at the Vienna Conservatory and private studies with Hilde Rössel-Majdan, Hilde Zadek and Herwig Reiter. Her diverse repertoire ranges from early baroque music to contemporary works.
Source: Styriarte / Johanna von der Deken