Johanna Gröbner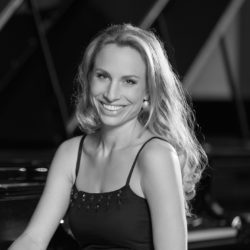 Johanna Gröbner was finalist at ARD-Piano duo Competition in Munich, 2010, special prize for the best performance of the commissioned work by M. Borboudakis. Debut at Großer Musikvereinssaal in Vienna in 2009. Soloist with the Orchestra of Vienna Music University.
Duo
debut at Carnegie Recital Hall in New York City together with Veronika Trisko in 2006. Concerts throughout
Europe and America, with conductors as P. Rophé, L. Pfaff and Ch. Poppen. Pianist in the Vienna Art Orchestra, concerts at international jazz festivals. Several radio- and television recordings. Winner of many competitions, such as International Broadcasting Competition Concertino Praga, Grieg Competition Oslo, Musica Juventutis.
Chamber music studies with Prof. Efler and Prof Hughes at the Vienna Conservatory, diploma with distinction. Studies of chamber music at the Vienna Conservatory, additional studies of instrumental education, both with distinction. Scholarship holder of Boesendorfer.
In 2020 Johanna Gröbner and Veronika Trisko were accepted into the family of "Bösendorfer Artists".