Hyung-ki Joo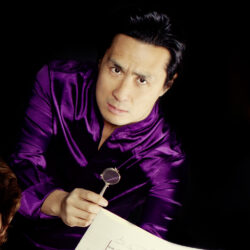 Hyung-ki Joo is British, but looks Korean, or the other way around, or both. He is a composer, pianist, conductor, inspiring student, YouTube sensation.
He started piano lessons at the age of eight and a quarter, and two years later won a place at the Yehudi Menuhin School. There, he discovered that he was among geniuses and child prodigies and was convinced he would be kicked out of the school. In the end, he was never kicked out but teachers and fellow students, such as Aleksey Igudesman, did kick him around in various parts of his anatomy, making the future of any offspring rather bleak. No matter how difficult those seven years at the school may have been, it only strengthened his love of music, and a while after graduation, he was chosen by Yehudi Menuhin himself to perform as soloist for his eightieth birthday concert at the Barbican Hall, London. You can see a tiny clip of them rehearsing on Hyung-ki Joo's YouTube Channel: Joo rehearses Beethoven with Menuhin
Hyung-ki's teachers have included Nina Svetlanova, Beryl Kington, Peter Norris, Seta Tanyel, Irina Zaritskaya, Vlado Perlemuter, Oleg Maisenberg, Richard Goode, and Ferenc Rados. He is eternally thankful to them for all their time, generousity, and sharing the gift of their knowledge.
Hyung-ki has small hands, (but only hands small), and therefore finds some piano repertoire quite difficult to play, such as the music of Rachmaninov, who had Big Hands.
Anyway, even with this small hindrance, he performs chamber music, recitals, concertos, his own compositions, and anything else that includes a good piano part.
Hyung-ki Joo led the workshop "Beyond the Practice Room" at the Allegro Vivo Summer Academy.
Registration for the workshop is possible when registering for a master class.