Gregor Horsch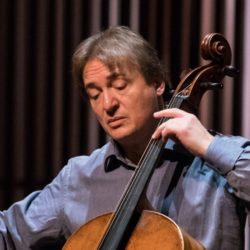 Gregor Horsch is professor for violoncello at the Robert Schumann Hochschule in Düsseldorf since 2009, before that lecturer at the universities in Den Haag, Amsterdam and Manchester. Master classes in Holland, Italy, England, America and China and in Austria at the Allegro Vivo Summeracademy located in Horn, a town near Vienna.
First solo-cellist at Royal Concertgebouw Orchestra Amsterdam since 1997. Versatile career as soloist, chamber musician and lecturer. Apperances with the most important orchestras in Holland, solo concerts with conductors like E. Svetlanov, L. Slatkin, H. Vonk and A. Gilbert. Chamber music partner of e. g. E. Ax, M. Pressler, V. Repin , S. Chang and J. Jansen. Debut performances of e. g. T. Keuris, W. Rihm and G. Kurtag. Frequent guest at festivals like the International Cellofestival in Manchester, the Cello-Biënnale in Amsterdam, the BBC Chamber Proms and the Holland Festival.
Studies with Chr. Henkel und R. Kirshbaum, award winner of the Pierre Fournier Awards 1988 in London.