Bijan Khadem-Missagh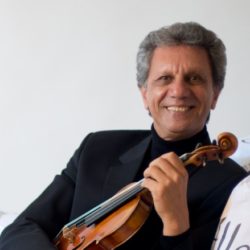 Prof. Bijan Khadem-Missagh, violinist and conductor, founder and artistic director of the Allegro Vivo festival till 2016. Master classes for violin at the summer academy of the Allegro Vivo Festival since 1979.
Former concertmaster of the Tonkuenstler Orchestra. Founder and honorary president of GLOBArt. Decorated with the great golden award of honor for the state of Lower Austria. Early debut as a soloist, founder of the Eurasia Quartet, Grand Prix and first prize at the International Chamber Music Competition in Colmar, France, in 1971. International concert tours as a soloist. Numerous CD-, radio- and TV recordings. 1981–1990 artistic director of the Chamber Music Festival in Umeå (Sweden), initiator and artistic director of the Badener Beethoventage 1980–1986. 2021 Culture Prize Winner of Lower Austria, Awarding of the Appreciation Prize, Category Music;
Completed his studies at the Academy of Music Vienna under Prof. Morawec, Steinbauer and Samohyl.

Registration for the workshop »Moonlight Serenade« is possible when registering for a master class.
The workshop is included in the course fee.