CoViD Info
We are constantly updating the preventive measures to enable you to have a carefree concert experience.
By purchasing tickets, you agree to the preventive measures valid at the time of the event.
In the event of an official cancellation, the ticket price will be refunded.
Informationen
10.15 am: Breakfast with the artists
11.00 am: concerts
Joseph Haydn, Trio in C-Dur Hob. XV/21
Johanna Doderer, 2. Klaviertrio DWV 52
Ludwig van Beethoven, Trio in B-Dur op. 11 »Gassenhauer«
interval
Johannes Brahms, Trio in C-Dur op. 87
TrioVanBeethoven
Clemens Zeilinger, piano
Verena Stourzh, violin
Franz Ortner, cello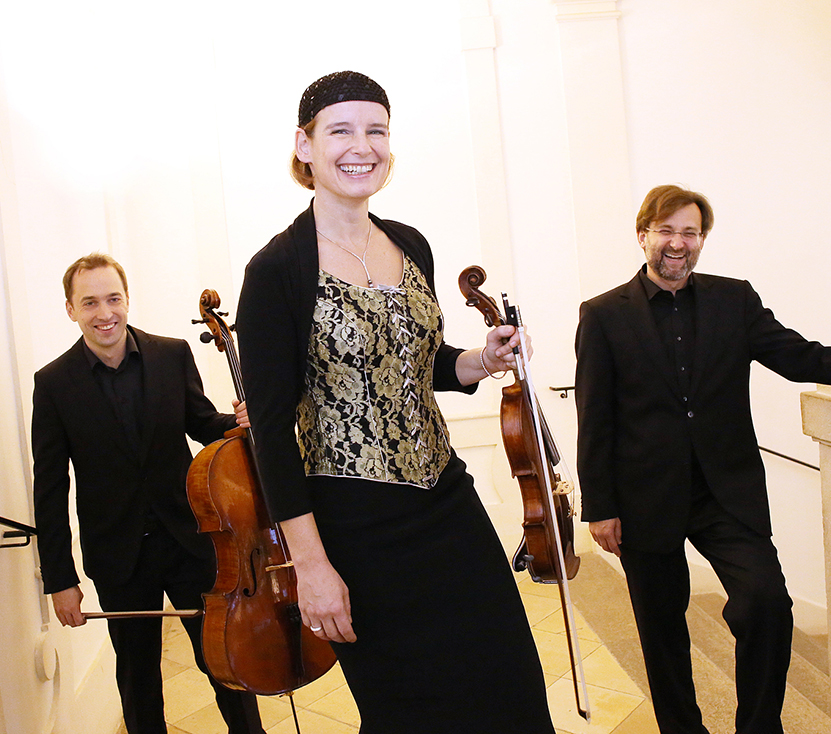 © Reinhard Winkler
Das gefeierte TrioVanBeethoven ist seit seiner Gründung 2011 ein Fixstern im österreichischen und internationalen Musikleben. Vom Namenspatron Beethoven leitet das Trio die Verbundenheit mit der Wiener Klassik, aber gleichzeitig das Visionäre und in die Zukunft weisende ab. So überrascht es nicht, dass die drei Mitglieder des TrioVanBeethoven für Allegro Vivo ein Programm mit Werken von drei "Klassikern" der Kammermusik und einer lebenden österreichischen Komponistin zusammengestellt haben.
Haydns Trio in C-Dur eröffnet die Zeitreise, die mit einem Sprung in die Gegenwart zu Johanna Doderers 2009 entstandenem zweitem Klaviertrio führt. Über ihr Werk sagt die Komponistin: "Die verspielte Leichtigkeit in Haydns Musik empfand ich als große Herausforderung und Frage an meine Schaffenskraft. Die Einleitung meines Klaviertrios fängt scheinbar harmlos an. Gegen Ende entpuppt sich diese Harmlosigkeit als nackter Wahnsinn. Ein musikalisches Wortgefecht der einzelnen Stimmen – ein rasender Schlagabtausch …" Mit Beethovens berühmtem "Gassenhauer" und Brahms' op. 87 rundet das TrioVanBeethoven den weiten Streifzug durch die magische Welt des Triorepertoires ab.
Tickets
Karte