CoViD Info
We are constantly updating the preventive measures to enable you to have a carefree concert experience.
By purchasing tickets, you agree to the preventive measures valid at the time of the event.
In the event of an official cancellation, the ticket price will be refunded.
Informationen
(at rainy weather Vereinshaus Horn)
J. S. Bach, G. F. Händel, A. Piazzolla
Michal Knot, saxophon
Joel Diegert, saxophon
Pieter Pellens, saxophon
Damiano Grandesso, saxophon
Alvaro Collao-Leon, saxophon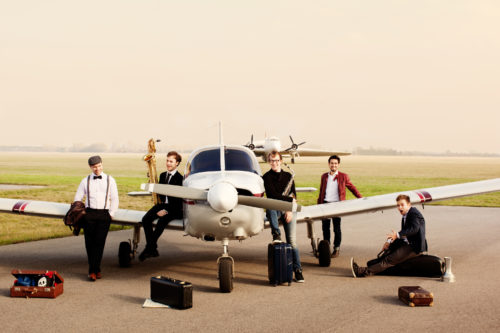 Die Mitglieder des gefeierten Quintetts Five Sax kommen aus den USA, Polen, Belgien, Italien und Chile. Kein Wunder also, dass es einmal um die ganze Welt geht, wenn das Ensemble mit dem Allegro Vivo-Publikum auf Reisen geht. Wien bekommt als Gründungsstadt von Five Sax einen besonderen Platz, doch spätestens nach weiteren Stationen mit feurigen Sounds aus Spanien, Italien, Ungarn und über den Balkan ist klar, dass Five Sax ganz hoch hinaus wollen.
Mit einem Handshake über den Atlantik gelangen wir schließlich nach Amerika, um hier mit argentinischem Tango und brasilianischem Bossa Nova das Tanzbein zu schwingen. Ein Abstecher nach Amerika wäre aber nicht komplett ohne die schönsten Melodien aus der Traumfabrik Hollywood, die Five Sax in raffinierten Arrangements zum Besten gibt. Der Arkadenhof im Kunsthaus Horn wird zum fliegenden Konzertsaal – bitte einsteigen!
Tickets
Karte