Werner Güra / Christoph Berner
Werner Güra / Christoph Berner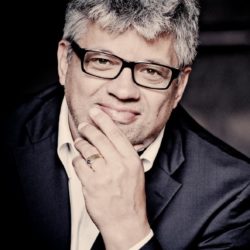 Wener Güra
German tenor Werner Güra, born in Munich, received his musical training at the Mozarteum in Salzburg and comple­ted his vocal studies with Profes­sor Kurt Widmer. Furthermore, he was coached by Nicolai Gedda, Professor­ Margreet Honig in Amsterdam and Professor Wessela Zlateva in Vienna.
After guesting at the opera houses of Frankfurt and Basel, he joined the ensemble of the Semperoper Dresden in 1995, where he sang the important Mozart and Rossini parts of his Fach. Daniel Barenboim invited Werner Güra for various productions at the Staatsoper Berlin. He continued as guest in Dresden and also sang his highly acclaimed Mozart roles Tamino, Ferrando and Don Ottavio at Teatro Carlo Felice in Genova, Opéra de Lille, La Monnaie in Brussels and the Opéra National de Paris, at the Innsbruck Festival of Early Music and in Baden-Baden. After a long period appearing in concerts only, Werner Güra decided to take part in a new production of Il Ritorno d'Ulisse in patria at the Zurich Opera in May/June 2014.
At this stage of his career, Werner Güra concentrates his activities on the vocal-symphonic and Oratorio repertoire. He sang on the most prestigious European concert stages such as Konzerthaus and Musikverein Wien, Royal Festival Hall London, Concertgebouw Amsterdam, Philharmonie Berlin, Philharmonie Paris and worked with many orchestras including Royal Concertgebouw Orchestra, London Philharmonic Orchestra, Berlin Philharmonic Orchestra, Wiener Symphoniker, BBC Symphony Orchestra, the German, Dutch, Spanish, Danish Radio Symphony Orchestras, the Gulbenkian Orchestra Lisbon, with conductors such as Claudio Abbado, Riccardo Chailly, Michel Corboz, Sir Colin Davis, Ádám Fischer, Bernard Haitink, Daniel Harding, Thomas Hengelbrock, Philippe Herreweghe, René Jacobs, Marek Janowski, Armin Jordan, Philippe Jordan, Ton Koopman, Fabio Luisi, Kurt Masur, John Nelson, Yannick Nézet-Séguin, Sir Roger Norrington, Trevor Pinnock, Helmuth Rilling, Sir András Schiff, Ralf Weikert, Thomas Zehetmair and David Zinman. The tenor enjoyed close collaboration with Nikolaus Harnoncourt under whose baton he appeared at the Vienna Musikverein, Styriarte Festival, Philharmonie München, Concertgebouw Amsterdam and on tour in Japan.
Highlights of the season 2018/19 included Schubert's Mass in E-flat major at the Vienna Musikverein with Riccardo Muti, Britten's War Requiem with the Vienna Symphony and Philippe Jordan, Bach's Magnificat and Cantatas with Concentus Musicus Wien and Stefan Gottfried, Bach´s Christmas Oratoriowith Philippe Jordan, Haydn's Creation in Eisenstadt, Mendelssohn´s Eliaswith the Orchestre des Champs-Elysées and Philippe Herreweghe, Beethoven's Symphony No. 9 in Munich, Mendelssohn's Die erste Walpurgisnacht in Brussels and Antwerp, Bach's St John Passion with Akamus in Brescia, Munich and Berlin, followed by Schubert's Mass in E-flat major with The Cleveland Orchestra and Franz Welser-Möst, Bach's St Matthew Passion with the Cincinnati Symphony Orchestra and Juanjo Mena as well as Beethoven's Symphony No. 9 with the Pittsburgh Symphony Orchestra under the baton of Manfred Honeck.
The 2019/2020 season brings Schumann´s Paradies und die Peri with Jérémy Rohrer in Ingolstadt and Bonn, Bach´s Magnificat with Philippe Jordan at the Vienna Musikverein, Bruckner´s Te Deum with the Pittsburgh Symphony under the baton of Manfred Honeck, Beethoven´s Mass in C major with the Concentus Musicus Wien and Stefan Gottfried, Berlioz' Requiem with Marc Soustrot in Leipzig, Schumann´s Faust-Scenes with the Royal Concertgebouw Orkest and Sir John Eliot Gardiner in Amsterdam, Bach´s St Matthew Pasison in Munich, Schubert´s Mass in E-flat major with Bertrand de Billy in Vienna, Beethoven´s Symphony No. 9 with Bruno Weil in Helsinki as well as with the Munich Philharmonic and Manfred Honeck in Munich.
Recordings for Harmonia Mundi France include Orpheus (Telemann), The Seasons (Haydn), Così fan tutte (Mozart), Christmas Oratorio and St Matthew Passion (J.S. Bach), all under the baton of René Jacobs. Lieder by Schubert and Der Rose Pilgerfahrt with the RIAS Chamber Choir conducted by Marcus Creed were also released at Harmonia Mundi. Beethoven´s Fidelio under the direction of Daniel Barenboim with Werner Güra in the role of Jacquino has been released by the Label Teldec. For Sony/BMG Werner Güra recorded Haydn´s Orlando Paladino and The Seasons as well as Bach´s Christmas Oratorio, all under the baton of Nikolaus Harnoncourt.
Werner Güra is also much appreciated as Lied interpreter, regularly giving recitals amongst others at the Wigmore Hall London, Concertgebouw Amsterdam, Lincoln Center New York and the Schubertiades Schwarzenberg and Barcelona. Upcoming recitals will lead him to the Wigmore Hall London, the Vienna Musikverein, to Zurich and Stuttgart.
In autumn 2000, Schubert's Die Schöne Müllerin was released as Werner Güra's first solo recording on Harmonia Mundi, followed by Schumann's Dichterliebe and Liederkreis op. 39 as well as Hugo Wolf's Mörike Lieder, all with pianist Jan Schultsz. Latest releases on Harmonia Mundi with pianist Christoph Berner are Schöne Wiege meiner Leiden, featuring songs by Clara & Robert Schumann and Johannes Brahms as well as Schubert's Schwanengesang, Winterreise and Mozart Lieder. All these solo recordings received the 'Diapason d'or' and were elected Editor's Choice in Gramophone Magazine. For his Winterreise, Werner Güra received the BBC Music Magazine Award in the category 'Vocal' in 2011. For his latest Schubert-CD Willkommen und Abschied, he was awarded the prestigious German ECHO-Klassik prize in 2012. His latest recording features Beethoven Lieder and Bagatellen.
Werner Güra has been teaching at the Zurich University of the Arts since 2009.
https://machreich-artists.com/en/artist/werner-guera
Christoph Berner
Christoph Berner's enormous stylistic spectrum and musical versatility is shown to audience and critics alike in his impressive discography of the last few years.
The recording of the Johannes Brahms' complete works for clarinet and piano with Laura Ruiz-Ferreres, the highly regarded recordings with the acclaimed tenor Werner Güra (the most recent a CD with Beethoven bagatelles and songs) and the release of Fin de siècle songs with the successful mezzosoprano Anke Vondung were awarded prestigious prizes, including the BBC Classic Award, the ECHO, the German record critics' award (quarterly critics' prize) and the Diapason d'or.
The cooperation with internationally sought-after chamber musicians and singers and an intensive study of historical pianos, including the fortepiano, have resulted in an extensive knowledge of the keyboard repertoire from Bach to contemporary music.
Christoph Berner was born in Vienna and studied at the university of his hometown with Imola Joo, Hans Graf and Hans Petermandl. In 1997 he graduated with unanimous distinction and afterwards he attended the master class of Maria Tipo at the Scuola di musica di Fiesole (Italy).
By winning the Boesendorfer Piano Competition in 1995, the 2nd prize of the International Beethoven Piano Competition in 1997 (Vienna) as well as the Mozart and Schumann prize at the Géza Anda Concours in 2003 (Zurich) Christoph Berner established his reputation as one of the leading pianists from Austria.
He was engaged as a soloist with orchestras like the Moscow Tchaikowsky Orchestra, the Orchestra National du Capitole de Toulouse, the Dresden Philharmonie, the Phiharmonie Bergen, the Norhern Sinfonia, the New Philharmonie Westfalen and the Mahler Chamber Orchestra under conductors like Neeme Järvi, Michel Plasson, Rafael Frühbeck de Burgos, Andrew Litton, Johannes Wildner, Vladimir Fedosejev and Thomas Zehetmair.
His chamber music partners are the violinist Julia Schröder, the cellists Marko Ylönen and Roel Dieltins, the clarinetist Laura Ruiz Ferreres and the Hugo Wolf quartet.
Christoph Berner has worked closely together with the tenor Werner Güra since 1999 – the duo are often guests at the Wigmore Hall, London, Vienna's Musikverein, the Palau de la Musica, Barcelona, the Citè de la musique, Paris, as well as at festivals like the Schubertiade Schwarzenberg, the Rheingau Music Festival, the Edinburgh Festival, the Kissinger Sommer, the Dias da musica, Lisbon and others.
Furthermore, Christoph Berner performed together with singers, such as Marlis Petersen, Anke Vondung, Bernarda Fink, Genia Kühmeier, Markus Werba, Markus Eiche and Florian Boesch as well as others.
Since 2014 he has been professor of vocal accompaniment and Lied interpretation at the Zurich university of arts.
www.christophberner.at