Wen-Sinn Yang
Master Class Wen-Sinn Yang
Class dates:
19.08.-26.08. - Violoncello (Fully Booked)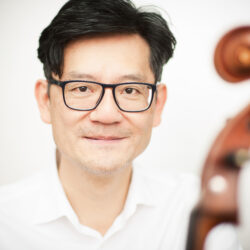 Master Class Violoncello with Wen-Sinn Yang
Arrival: 19.08. until 20.00h
Class Start: 20.08 at 9:15
Class Location: Horn, Waldviertel
Class Scope: Private lessons, overall 180 min, accompaniment, opportunity to perform
Deadline: June 1st, 2023
About Wen-Sinn Yang
Wen-Sinn Yang holds a chair for violoncello at the Munich University for Music and Performing Arts in Germany since 2005. In addition to this, he is holding international master classes on a regular basis. In summer he regularly comes to Horn, in the Waldviertel, he is lecturer at the Allegro Vivo Summer Academy, master class violoncello.
Principal cellist with the Bavarian Radio Symphony Orchestra. Regular appearances at major concerts halls and music festivals in Europe and Asia. Solo performances with orchestras such as  the NHK Tokyo, the Shanghai Symphony Orchestra, Radio Suisse Romande and the St. Pauls Chamber Orchestra. More than 20 CD recordings from standard repertory to less well known but highly virtuoso music by composers such as F. Servais, C. Davidoff, A. Piatti and J. Klengel. DVD of 6 solo suites by J. S. Bach in conjunction with Bavarian television.
Studies under C. Starck (Zurich) and W. Boettcher (Berlin). Winner of the first prize at the Geneva International Music Competition in 1991.
Master Classes
Classes are held by renowned artists and lecturers involving at least 3 hours (4x45 minutes) per week per student. Participants have the choice between concert, solo and chamber music literature. Support for existing ensembles and experienced chamber musicians.
In addition to the classes, numerous accompanists will be available to help participants studying and preparing for the music programme within the context of the course.
Registration / Conditions
The master classes are designed for music students, young students and talented young musicians. Our professors choose their students on basis of your information. Detailed description about the musical skills and education increases the chance for a place in the master class. Required age: 15 years.
Fees
Registration Fee: € 130.-
19.08.-26.08. - Violoncello: € 350.-
Information about course fees, accomodation and terms of payment click here
Master Class Content
(depending on the course date)
lessons
accompaniment
free entry to the concerts of summer academy if available
Travel and shuttle service
Participants are responsible for making and paying for their own travel arrangements. We offer a shuttle transfer from Vienna to Horn (departure always 15.00), and back to Vienna (departure always 10.00).
Price per trip: € 25,-
Additional Offers
Concerts
Participants may perform in one of the 20 concerts of the Summer Academy. Joint attendance of concerts (Nomination by the lecturer in consultation with the course management)
Accomodation
Accomodation can be booked within your registration (depending on course date).
As there are no vacancies in private boardings in Horn and surroundings during the time of our summer academy, we firmly recommend booking the course and one of our offered accommodation at the same time.
Bundesschülerheim
The "Bundesschülerheim" is a boarding school for pupils during the year. The house has been renovated and has now 30 double rooms. Washrooms are on the corridor.
Campus Horn
Campus Horn has a wide choice of leisure attractions for families. At the outdoor area there is a playground and a sport area, the public swimmingpool is nearby. The centre of Horn offers various pubs, restaurants and shops within walking distance. Indoor there is a playroom for small children, table tennis, meeting rooms and much more leisure offers. The hotel has about 180 beds, many seminar rooms and a special event location, called "Weitblick" with a magnificant view of Horn and its surrounding.
Hotel Blie
Comfort awaits the guests at the "Gasthof Blie", which is now managed by the 6th generation of the family. The house offers 74 beds. The excellent cuisine offers international cuisine and Austrian specialties. The house is close to the city center, the train station is within walking distance.
Scholarships
We sincerely thank the public authorities and private sponsors of Allegro Vivo, they enable us to run the courses.
For social hardship cases we offer scholarships (registration fee or 1/2 of the course fee). Applications for scholarships including a letter of recommendation must be received by us until the 17th of May 2023.
General terms
Accommodation incl. breakfast at Bundesschülerheim, Hotel Blie, Campus Horn, separate external accommodation is possible
Class venues: Kunsthaus Horn
Pianos for practice will be available for at least 3 hours per day and participant
Participants may practise in their rooms, an additional limited number of practice rooms will be offered.
Passive course attendance is possible on request by e-mail
Confirmation of registration will be sent after approval by the lecturer and payment of the registration fee. Limited number of places available. Early registration is recommended.
In case of your cancellation by 30th of June the registration of € 130,-, until 1st of August 50% of the course fee (incl. registration fee, course fee, additional offers) and after that 100 % of the course fee (incl. registration). If the courses cannot take place due to an official cancellation, fees paid will be refunded according to the course confirmation.
Participants (under 18 years) are subject to the rules of the Children and Youth Protection Act.
CoVID-Prevention Measures
We closely monitor the CoViD situation and potential prevention measures to provide the best Summer Academy experience possible.
By signing up, you agree to any prevention measures active during the summer academy. In case of regulatory cancellation, course fees will be refunded
Terms of Payment
Without charges for the receiver by remittance to account
"Academia Allegro Vivo - Festival Austria",
IBAN AT16 2022 1000 0000 4952 BIC SPHNAT21XXX
Sparkasse Horn, all prices incl. taxes