Veronika Kopjova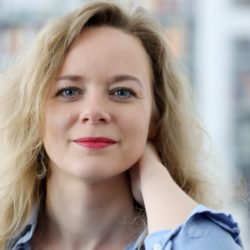 Veronika Kopjova is lecturer for accompaniment for strings at the University of Music and performing arts in Vienna since 2014 and also at the Allegro Vivo summer academy in Horn, a city near Vienna.
Member of Ensemble Platypus for contemporary music. Concerts in Europe, Chile, China and in her home country Lithuania. Pianist with i.a. the Lithuanian National Symphony Orchestra, St. Christopher Chamber Orchestra. Performances in various concert halls such as Concertgebouw, Konzerthaus Vienna, Musikverein Vienna and Graz. Veronika Kopjova plays concerts as soloist and chamber musician at international festivals. Prize winner of international competitions. Scholarships of the Lithuanian Ministry of Culture, International Yamaha Foundation and the Juozas Karosas Foundation.
Studied at the Hanover University of Music, Drama and Media, where she is now studying the concert exam (piano class of Prof. Ewa Kupiec) in the postgraduate course. Veronika also specializes in piano chamber music at the University of Performing Arts Vienna with Prof. Avedis Kouyoumdjian and works as an accopnanist at the MDW.