Venčeslav Križ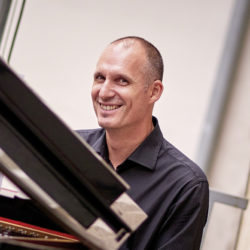 Since 2002 teacher and piano accompanist at the Albrechtsberger music school in Klosterneuburg. Venčeslav Križ is accompanist for the
classes for children and their parents
at the Allegro Vivo summer academy.
Concerts as piano accompanist as well as soloist and chamber musician as member of the piano trio Dubrovnik. Teacher at the music schools "Ivan Zajc", "Funkcionalna skola" in Zagreb/ Croatia, St. Valentin and the
Yamaha "Academy of Music"
in Vienna.
Venčeslav Križ is born in Croatia, studied piano at the Zagreb Academy of Music under Prof. J. Murai and at the Konservatorium Wien University with Prof. J. Behar. Graduated with distinction.