Vanda Albota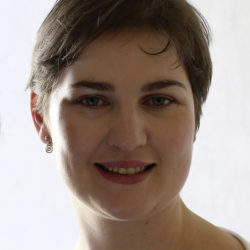 Vanda Albota is an artistic cooperator at the Allegro Vivo Sommerakademie in Horn, a city near Vienna. Questioned accompanist at master classes and competitions (Forum Artium, Weimarer Meisterkurse, Internationaler Bachwettbewerb Leipzig); 2004–2012 assistant lecturer at the Hochschule für Musik in Weimar, 2012–2014 at the University of Arts Berlin. Since 2016 artistic cooperator for woodwind accompaniment at the Folkwang University of Arts in Essen.
Orchestra concerts in Romania and Berlin, Leipzig, Zwickau, Bad Hersfeld, Weimar. Chamber Music and Lied accompaniment in addition to her soloistic activities. Numerous radio and TV recordings, large number of awards at international competitions.
First musical education in Romania, her native land. Vanda Albota studies supported by scholarships of the Konrad-Adenauer-Stiftung and the DAAD in Weimar. Piano concert exam, studies of historical keyboard instruments in Berlin. Diploma with concert exam.