The Klezmer Brothers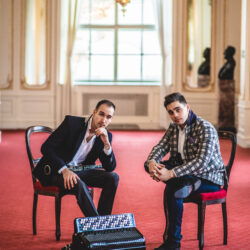 The Klezmer brothers, the two young musicians Nikolas Lazic (Serbia) and Szilárd Benes (Hungary) have lost their way in the compact music world. Since the two brought the music culture from their respective homeland, they developed a new style together, in which the painful and sometimes ironic Klezmer motifs are crossed with a crisp gipsy mood and a bit of Balkan flavor. The goal is to show the audience that you can experience the music of their homeland through the atmosphere even without speaking the appropriate language – to be heard in the Loisium at the Allegro Vivo Festival.
Szilárd Benes was born in Keszthely (Hungary) in 1990. He studied clarinet and bass clarinet at the Kunstuniversität Graz with Prof. Stefan Schilling and historical clarinet with Dr. Ernst Schlader. He has won several competitions and has received a scholarship from the Forum Hungaricum. 2012 his performance of Krzysztof Penderecki's clarinet quartet in Graz was broadcasted on Ö1. In the same year he won 1st prize in the composition competition of the Karl-Franzens-University Graz with his crossover project "Trio_Sinus". Szilárd Benes regularly gives concerts as a soloist as well as chamber musicians at well-known festivals such as the Steirischer Herbst, Wien Modern, Jeunesse Wien, Impuls Graz, Afekt (Estonia), Poznan Musical Spring (Poland) and many more.
Nikolas Lazic was born in Vienna on September 14, 1992. His love for music and for the accordion was evident to his parents at the age of three, so they decided to give him private music lessons. Nikolas Lazic is currently studying for a master's degree at the University of Art in Graz and is a graduate of the "Gustav Mahler Conservatory" in Vienna. He documents his musical talent with excellent success in many international competitions in countries such as Italy, Austria and Germany. He has also performed with prominent figures such as Michael Köhlmeier in the Musikverein.
www.kammermusik.co.at/kuenstler/the-klezmer-brothers