Tanja Becker-Bender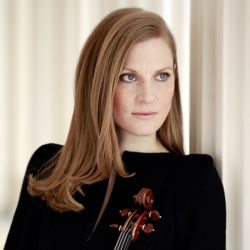 Already in 2006, she was appointed professor at the University of Music in Saarbruecken, and since 2009, she has been teaching as a professor at the University of Music and Theatre in Hamburg. Young musicians have the opportunity to take part in a violin master class by Tanja Becker-Bender at Allegro Vivo in Horn, a city near Vienna.
Soloist under K. Masur, G.Albrecht, L. Zagrosek, U. Segal, F. Luisi, with renowned orchestras such as Tokyo Philharmonic, Jerusalem Symphony, Yomiuri Nippon Symphony, Houston Symphony and Konzerthaus Orchestra Berlin. As chamber musician playing at festivals with G. Kremer, Y. Bashmet, B. Pergamenschikow and A. Steinhardt. Recitals in New York, Buenos Aires, Montevideo, Paris, London, Rome and Vienna. Creative collaboration with C. Halffter, P. Vasks and M. Gielen, first performances of works by R. Hempel, A.Goehr and B. Mason. CD recordings. In 2012 release of a recital disc, together with pianist P. Nagy, featuring Ottorino Respighi's Works for Violin and Piano.
Studied with D. Takeno at the Guildhall School in London and with G. Pichler (Alban Berg Quartett) at the University of Music and Performing Arts Vienna and at the Juilliard School in New York.