Russian Gentlemens Club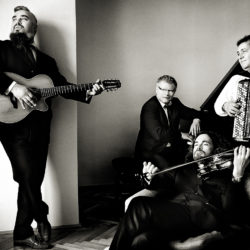 Far away from the booming Donkosaken kitsch, the Russian gentlemen resurrect the Soviet variety stage.
With the Russian Gentlemen Club, the four "Magnificent Seven" of the Viennese Russian music scene pay us homage!
The Allstar band consists of Georgij Makazaria (frontman for "Russkaja" – vocals, guitar) Aliosha Biz ("Primasch" for "Dobrek Bistro" – vocals, violin), Alexander Shevchenko (half duo of "Klezmer Reloaded" – vocals, accordion ) and Roman Grinberg (Vienna Jewish Choir Master – vocals, piano).
The four find pearls in the film music of a lost era and in the folklore of a broken multinational state: All musicians were born in the former USSR and left it even before Russia, Moldova and Ukraine were formed. The "Gents" bring many well-known and unknown Russian songs with a lot of passion and (N)ostalgia feeling in their luggage. That Shevchenko actually comes from the Ukraine, Makazaria has a Georgian surname and "Biz" and "Grinberg" doesn't sound Russian at all, shouldn't bother us with this music!
Na Zdarowje!