radio.string.quartet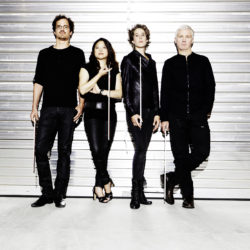 Bernie Mallinger, violin
He studied at the Music University Graz (Classical Violin/Concert). After finishing studies Mallingerstayed for some months in the USA (New School of Music, Manhattan School of Music, Juilliard Schoolin New York). Since 1997 free-lancing artist. In the following years cooperation at about 100 CD-productions in the field of Jazz, Folk, Pop, and New Music. Stage work from duo up to work as soloist with big bands and orchestras. Performances in numerous theatre- and show productions. Since the winterterm 1999/2000 lectureship at the University of Art/Graz (dep. Jazz). Further pedagogical work within the frame of workshops and jazzdays in Austria, Spain, and in the USA.
Igmar Jenner, violin
Born 1980 in Berlin, studied chamber music at the Arts University in Graz. Scholar of the "Henri ManciniInstitute Los Angeles". Played with musicians such as Herbie Hancock, Bobby McFerrin and Vince Mendoza. Now working as a freelance composer and musician in Austria. Won the "Austrian WorldMusic Award 2010" with the duo "Igmar Jenner & Borut Mori" (violin + accordion). Leader of the string ensemble "String Syndicate".
Cynthia Liao, viola
Born in Taipeh, Taiwan. First studies of viola and composition in Taiwan. Studied viola at University for Music and Performing Arts in Vienna with Thomas Kakuska. 2000 graduation with the title "Magistraartium". Chamber music studies with members of Artis Quartett, Wiener Sextett and Alban Berg Quartett. First solo performance at the age of 13. Subsequently concerts with orchestras in Austria (Vienna Mozart Orchestra), Italy, Taiwan, Corea and the USA. 1995-1997 Principal Viola of the "Wiener Jeunesse Orchester", 1998-1999 of the Vienna Chamber Opera and 2001-2003 of the milanese symphony orchestra "Giuseppe Verdi". 2002 Invitations as soloist at the "Teatro La Fenice" in Venice; 2004 groupleader of the violas in Brucknerorchester Linz. Since 2003 Member of Vienna Chamber Orchestra and the Vienna Chamber Philharmonic. Since 2005 member of the Ensemble Reconsil Vienna for contemporary music. Liao performed with chamber orchestras at numerous festivals, as Wiener Festwochen, Bregenzer Festspiele, Klangfruehling Festival, Kammermusik Festival Stresa etc.
Asja Valcic, cello
Asja Valcic studied with V. Despalj (Zagreb/Croatia), L. Teraspusky (Massachusetts/USA), N.Schahovskaja (Moscow/Russia) and K. Georgian (Detmold, Germany). Graduation with Soloist's Diploma. She attended master classes with B. Pergamenchikov und B. Greenhouse. She has played chamber music with G. Schulz (Alban Berg Quartett), H. Schoneweg (Cherubini Quartett), I. Bolton (Brodsky Quartett), I. Bieler (Melos Quartett), A. Engegard (Orlando Quartett), T. Brandis (Brandis Quartett), and many others. As a soloist she performed with the Zagreb Philharmonic, Belgrade Philharmonic and the Westfälische Kammerorchester, conducted by the likes of Kazushi Ono and Zubin Mehta. In 1995 she won the "Concours international de jeunes concertistes de Douai" in France. For herrecordings of the Sonatas of Shostakovich and Schnittke she was awarded the German Record Critics' Award in 1998. Valcic is teaching at the music academy of Zagreb (Croatia), at the Dartington International School of Music/England, in Chioggia/Italy and at the university of music Detmold/Germany. Since 2008 she is playing in duo with Klaus Paier.
www.actmusic.com