Matthieu Gauci-Ancelin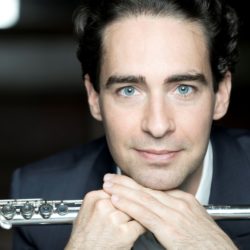 Matthieum Gauci-Ancelin is professor for flute at the University of Music in Graz from 2020/2021. Before that he was Professor at the Hanns Eisler School of Music Berlin.
Since 2006 solo flutists at the Komische Oper Berlin. Since 2007 regular cooperation as first flutist at the Berlin Philharmonic Orchestra as well as with London Symphony Orchestra, Staatskapelle Berlin and Dresden, Munich Philharmonic Orchestra and Gewandhaus Leipzig. Soloist under P. Inkinen, H. Nánási, Sir R. Norrington and others. Chamber music partner of P.-L. Aimard, L. Vogt, M. Bourgue and many more. CD recording of G.F. Handel´s concert for flute and english horn with Albrecht Mayer and the Sinfonia Varsovia for Deutsche Grammophon. Prizewinner of the international flute competition "Jean-Pierre Rampal". Supported by the French foundation Natixis Banque populaire.
Studies at "Conservatoire de Paris" with Sophie Cherrier and at the Karajan Academy with Andreas Blau and Michael Hasel.