Madame Baheux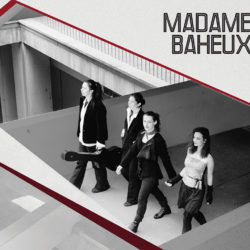 Watching this female quintet from Vienna demonstrates how the term "Girl Power" is in serious need of an update. Jelena Popržan from Serbia, Ljubinka Jokić from Bosnia, Maria Petrova from Bulgaria and Lina Neuner and DeeLinde from Austria: Four voices, sixteen strings, three bows plus percussion and drums. It´s funny, frenetic and groovy! It´s fresh, feminine and audacious!
Expect catchy and addictive folk songs from Bulgaria, Serbia, Bosnia and Macedonia in innovative arrangements, self-composed originals by the band members as well as songs by Ewan MacColl, Bertolt Brecht and Georg Kreisler. Not to mention that tune about a local native extemporizing his feelings about foreign guestworkers in fictitous experimental Viennese dialect.
Despite the musicians´ southeast-european roots (not including "migrant workers" Lina Neuner and DeeLinde who travelled into Vienna from the county side) and the obvious influence on their repertoire, the quintet reaches far beyond these boundaries. Its artistic expression and music is multi-lingual as well as multi-stylistic, featuring Jazz, Rock, sociocritical songwriting and other genres.
Madame Baheux have brought something new on stage. Something that intoxicates, stirs up, provokes laughter, something that moves the mind, body and heart.
Madame Baheux won the Austrian World Music Awards 2014 and their debut CD got on top 20 of the World Music Charts Europe
Jelena Popržan – Viola, Voice
Ljubinka Jokić – Guitar, Voice
DeeLinde – Cello, Voice
Lina Neuner – Double Bass, Voice
Maria Petrova – Drums, Percussion