Lydia Altenburger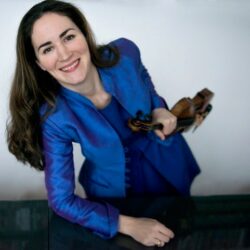 Lydia Altenburger is very successful in teaching children. Her students are regularly winners of "Prima la Musica".
The freelance violinist and violist has lived and worked in Vienna since 2007. Aschamber musician playing at festivals e.g. the Swabian Spring, Prussia Cove, the Upper Austrian Collegiate Concerts, the Neuberger Kulturtage and the LOISIARTE. Chamber music performances with partners such as Patrick Demenga, Eszter Haffner, Reinhard Latzko, Michel Lethiec, Marko Ylönen and the music band Franui. Regular collaboration with orchestras such as the RSO Vienna, the Vienna Volksopernorchester, the Wiener Kammerorchester or the Camerata Nordica in Sweden.
Lydia Altenburger was born in London. Studied violin under Howard Davies and piano under Druvi de Saram at the Royal Academy of Music; 2006 graduation with unanimous distinction.