Leonard Fu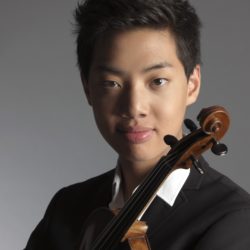 Leonard Fu was born in Kiel, Germany, in 1997. With four years he started learning the piano, with seven he began to play the violin. 2005 he was one of the youngest attendee for Early Studies at the Hochschule für Musik, Theater und Medien Hanover. There he studied with Ms Prof. Ina Kertscher and Ms Prof. Lara Lev. Leonard had been a student of Ms Prof. Tanja Becker-Bender at the Hochschule für Musik und Theater Hamburg afterward for six years. He now is an undergraduate student of Prof. Donald Weilerstein at New England Conservatory of Music in Boston, Massachusetts. At masterclasses he studied i.a. with Andreas Röhn, Boris Garlitsky, Shmuel Ashkenasi, Regis Pasquier and Mauricio Fuks.
Leonard is laureate of many national and international competitions. 2009 he won the 2nd price at the "16th International Violin Competition Andrea Postacchini" in Fermo, Italy and 2013 he won the 1st price at "Jugend Musiziert" in Erlangen, Germany, in both categories violin solo and piano trio. In 2012 he had been invited to Beijing to the "16th International Violin Competition for young violinists Yehudi Menuhin" amongst 20 other finalists and in 2013 he was laureate and receiver of two special prizes at the "32nd International Violin Competition 'Premio Rodolfo Lipizer'" in Gorizia, Italy. Leonard is the winner of the Grand Prix and two special prices (audition's price and special price for the best music conveyance) at the TONALi14 Grand Prix in September 2014 in Hamburg, Germany. Related to the price was the lending of a Nicolaus Gagliano from Florian Leonhard Fine Violins as well as several concerts, e.g. at the Mecklenburg-Vorpommern Festival and in the Mariinsky Theatre, St. Petersburg.
Leonard has had concerts in Spain, Italy, Austria, Germany and Russia. He has, amongst others, played with the Hamburger Symphoniker, the Deutsche Kammerphilarmonie Bremen under the direction of Alexander Shelley and with the DOGMA Chamber Orchestra.
Currently, Leonard is playing on a "Carlo Ferdinando Landolfi", Milan 1750-1775, from the instruments fund of the Deutsche Stiftung Musikleben. He also receives the Gerd-Bucerius-Scholarship of the Zeit-Stiftung and the Deutsche Stiftung Musikleben as well as the scholarship of the Studienstiftung des deutschen Volkes, which enable him to pursue his studies in the United States.