Dobrek Bistro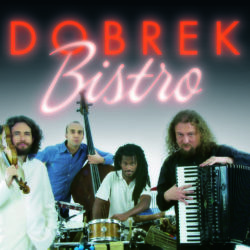 It was love at first tune. When Polish accordionist Krzysztof Dobrek and Russian violinist Aliosha Biz first met during the rehearsals for "Fiddler on the Roof"at the Vienna Theatre, it was clear that their future artistic direction would be a common one. First, Aliosha and Krzysztof refined their emphatic interplay in the Burgtheater ensemble, accompanying Maria Bill and in the "Acoustic Drive Orchestra."The time arrived to find a common musical language which would be uniquely theirs.
Supported by percussionist Luis Ribeiro and Sascha Lackner (bassist) they founded "Dobrek Bistro." The name of the French restaurant comes from the Russian word bystro (fast). With its name, the quartet describes the virtuoso speed of its performances as well as the melancholic elegance Dobrek, the composer of all the pieces, admires so much in the Parisian musette.
Musette and Latin American styles such as salsa, tango and bossa nova, jazz, gypsy swing, classical influences, music of the Balkans, the orient, of the gypsies and eastern European Jews as well as Slavic folk music are the ingredients of this mixture of styles. To brand it 'fusion'or 'crossover'would be hackneyed. Perhaps Dobrek Bistro will enter the annals of musical history as its own genre: too playful, head-on and improvised to count as chamber music, while paying too much respect to traditional forms to be considered as jazz – and with too many influences from modern classical and classical jazz movements merely to count as ethnic chamber music.
The secrets of its kitchen are best discerned by its Maître de cuisine, Krzysztof Dobrek, himself. "Our Salsa sounds gypsy-like, the Tango Viennese, the jazz Yiddish, and the mussette has a Russian touch."Yes; and one could add that the musical provinces sound like the big wide world, and that the big wide world does not deny its cultural roots: at Dobrek Bistro.
Richard Schuberth