CrossNova Ensemble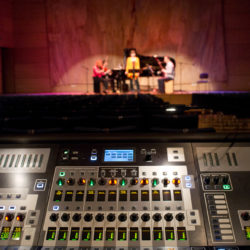 These days, the term ''crossover'' applies to a wide range of musical projects, all of which differ greatly in content, style and quality. For some concertgoers, this means a refreshing change from the rigid world of classical concerts, and yet for others, it appears to be a tasteless, commercially motivated branch of the music industry.
The CrossNova Ensemble is carving its own path and sound through the musical jungle. The music it performs is inspired by various contemporary styles, while at the same time staying firmly rooted in classical European musical traditions.
The standard CrossNova formation (violin, clarinet, bassoon, piano) closely resembles the registers of the instruments in a classical piano quartet, but the specific combination it is quite unique, thus creating a very individual sound signature on each piece of music performed.
Violinist Sabine Nova and pianist Rainer Nova have performed as a classical chamber music duo for many years and they comprise the core of the CrossNova Ensemble. In 2006, their curiosity and enjoyment of unconventional chamber music combinations led them to create this ensemble, the exact instrumentation of which is project-based.
The activities of the ensemble span from traditional and contemporary classical concerts, to music education and children's concerts, to cross-divisional projects such as musical-literary performances with actors and comedians like Otto Schenk, Ulrike Beimpold and Ludwig Müller. The musicians especially enjoy treating themselves (and the audience) to burlesque arrangements of absurd combinations of styles and instrumentation, some of which enable them to test their vocal abilities.Collaborations with composers such as Johannes Berauer, Vladimir Pantchev, Mathias Rüegg, Thomas Daniel Schlee, Helmut Schmidinger and Gernot Wolfgang have given the ensemble many opportunities to show its versatility and to premiere many pieces of music written for its specific instrumentation.
Projects from previous years are well documented by CD recordings, as well as by radio and TV broadcasts. Concerts and tours have led to the Wiener Konzerthaus, RadioKulturhaus Vienna, Theater Akzent Vienna, Brucknerhaus Linz as well as to concerts in the Philharmonie Luxembourg, in Germany, Poland and Slovakia. Festival appearances include concerts at the Carinthischer Sommer, the Salzkammergut Festwochen, Allegro Vivo, the Festival St. Gallen and the Kindermusikfestival St. Gilgen.
Sabine Nova, violin
Florian Eggner, cello
Heidemaria Oberthür, flute, vocals
Hubert Kerschbaumer, clarinet, vocals
Rainer Nova, piano
Dominik Maringer, recitation, vocals and technical management
www.novasounds.at