Carlo Torlontano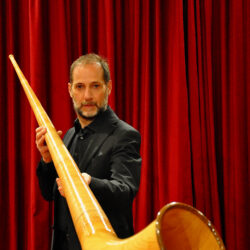 Guest soloist worldwide on the Alphorn, the Italian musician Carlo Torlontano dedicated most of his time promoting the Alphorn and its traditions as well as repertoire, introducing in the Concert-Hall this instrument mainly known for its use in sending signals throughout the Alpine valley.
On several occasions Mr. Torlontano has performed as a soloist in Asia, Australia, Europe and North America.He had been invitated to play in some of the world most prestigious Concert-Hall and International Festival, like Mozarteum Salzburg, Philharmonie Berlin, St. Petersburg Philharmonic, Warszawa Philharmonia, Beethovenhalle Bonn, and then Prague, Kuhmo, Tokyo, Brisbane, Hong Kong, Montréal, Beirut, Monterrey, Göteborg, Besancon, Porto, Lahti, Cordoba, Zagreb, Ljubljana, Bratislava, Madeira, Kristiansand, Cyprus, Den Haag, Vilnius, Sélestat, Shenzhen, Santander, Belgrade, Basel, Eisenach, Newport, San Diego, etc.
He broadcasted for Italian Radio-TV, RTHK Radio Television Hong Kong, RTV Australian Broadcasting Corporation, Dayton Public Radio, The Lounge San Diego Radio Program, ClassicLive, Sveriges Radio and DeutschlandRadio Kultur Berlin.
Mr. Torlontano has been also for many years the Principal Horn player with RAI-Italian Radio Television Symphony Orchestra and Teatro di San Carlo in Napoli.