Benedikt Endelweber
Children's Class Benedikt Endelweber
Class dates:
13.08.-26.08. - Violoncello (Fully Booked)
13.08.-20.08. - Violoncello (Fully Booked)
20.08.-26.08. - Violoncello (Fully Booked)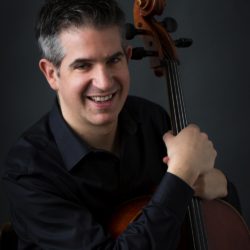 Violoncello Class for Childen and parents with Benedikt Endelweber
Arrival: 20.08. from 14:00 to 17:00
Class Start: 20.08.at 19:00 welcome event
Class Location: Campus Horn, Waldviertel
Class Scope: Private lessons, accompaniment, opportunity to perform, orchestra, chamber music
Deadline: June 1st, 2023
About Benedikt Endelweber
Benedikt Endelweber lectures the courses for children and their parents at the Allegro Vivo Summer Academy in Horn, a city near Vienna.
Member of the Arioso Quartet, founded in 1994, which had its debut in the Schubertsaal of the Wiener Konzerthaus in 2002. Frequent chamber music performances with this ensemble and others. He regularly plays with various Viennese Orchestras and in 2006 principal cellist at the Orchestra of the Vienna Volksoper. Member of the Academia Allegro Vivo, solo cellist with the Chamber Orchestra Ensemble Classico. Cello teacher in Vienna since 2002.
Studied at the Konservatorium Wien University under J. Luitz and at the University of Music and Performing Arts in Vienna with W. Herzer and W. Aichinger.
Course location
The courses for children and their parents have been taking place in the newly designed Horn Campus since 2019. The classrooms and exercise rooms are bright and friendly rooms with comfortable and functional furnishings, there is also enough space for breaks and relaxation times as well as an extensive range of leisure activities.
Daily schedule
Classes
The classes aimed to encourage children's passion in music and foster their joy in making music. Daily rehearsals, practice and companionship have a positive impact on their ability to strengthen their qualities and musical development. The period of two weeks make sustainable pedagogical effects possible. Lectures share their expertise, but also their great love for music. Lessons, accompaniment and chamber music training will provide participants with new experiences. Parents escort their children and are part of the courses to encourage and support their children best possible at the courses as well as during the year.
Accompaniment
In addition to the classes, numerous accompanists will be available to help participants study and prepare for the music programme within the context of the course. The number of lessons goes by the children´s abilities and according to the professors.
Chamber Music
We offer additional chamber music lessons (surcharge € 30,-). Children, who haven´t booked chamber music will attend – along with their parents - a rhythm workshop.
Orchestra for children and youth
Performing in the orchestra is an integral part of the course programme for strings and flute. Concert on Aug. 20th, 4 p.m., Kunsthaus Horn.
Concerts
Participants can perform in one of the concerts of the Summer Academy. Joint attendance at concerts (participants in the children's courses enjoy free entry, accompanying persons pay € 5,–).
Leisure Times
Campus Horn has a wide choice of leisure attractions for families. At the outdoor area there is a playground and a sport area, the public swimming lake is nearby. The centre of Horn offers various pubs, restaurants and shops within walking distance. Indoor there is a playroom for small children, table tennis, meeting rooms and much more leisure offers.
Registration
The classes are for the youth and children up to the age of 16. children accompanied by their parents (one of the parents).
The registration will only be processed after receiptof the registration fee. Confirmation will be sent after approvalby the lecturer. Limited number of places available. Early registration is recommended. If the acceptanceis refused by the professor, the fee will be refunded.
Registration will be availabel from 9th Januray, 2023.
Fees
Registration Fee: € 130,-
Course Fee:
13.08.-26.08. - Violoncello: € 380.-
13.08.-20.08. - Violoncello: € 240.-
20.08.-26.08. - Violoncello: € 210.-
Information about course fees, accomodation and terms of payment click here
Contents
lessons
Orchestra for children and youth
chamber music
accompaniment
joint activities
concerts
free entry to concerts of Allegro Vivo festival
reduced entrance for one parent (€ 5,- ticket)
Travel
Participants are responsible for making and paying for their own travel arrangements. On request we try to organize a shuttle form Vienna to Horn.
Accomodation
Campus Horn
Campus Horn opened in 2018. The house (former Canisiusheim) has been renovated and modernised and has now 180 beds. There are double rooms, as well as special family rooms and mulit-bed rooms. The restaurant "KULINARIUM" offers buffet meals for breakfast, lunch and dinner, furthermore the hotel offers self service with snacks and drinks.
Discounts
For families or additional classes the registration fee is charged only once.
Important Information
Accomodation and full board at Campus Horn. External accommodation is possible.
The courses are geared to the youth and children up to the age of 16 (children accompanied by an adult).
Pianos for practice will be available for at least 3 hours per day and participant (except for external participants).
Confirmation of registration will be sent after approval by the lecturer and payment of the registration fee. Limited number of places available. Early registration is recommended.
In case of your cancellation by 30th of June the registration of € 130,-, until 1st of August 50% of the course fee (incl. registration fee, course fee, additional offers) and after that 100 % of the course fee (incl. registration fee, course fee, additional offers) will be charged. If the courses cannot take place due to an official cancellation, fees paid will be refunded according to the course confirmation.
Payment Terms
Without charges for the receiver by remittance to account
"Academia Allegro Vivo – Festival Austria", Sparkasse Horn,
IBAN AT16 2022 1000 0000 4952 BIC SPHNAT21XXX
all prices incl. taxes